Ingredients

Red Sauce

Tomatoes – 6 pieces ( boiled ,blanched and made into paste)
Oregano seasoning – 1 teaspoon
Chili flakes – 1/2 teaspoon
Salt – to taste
Garlic – 5 cloves
White Sauce

Butter – 1 teaspoon
Multipurpose flour – 1 teaspoon
Salt – to taste
Black Pepper – 1/2 teaspoon
Cheese – 3/4 cup
Oil – 1 teaspoon
Milk – 1 cup
Vegetable Filling

Soya chunks grated – 1 cup ( boiled)
Onion – 1 piece (medium chopped)
Garlic – 4 cloves
Chili flakes – 1/2 teaspoon
Salt – to taste
Oil – 3 teaspoon
Any boiled vegetable like mushroom, broccoli, capsicum can also be added.
Pasta Sheets

Multipurpose flour – 2 cups
Salt – 1/2 teaspoon
Procedure

Each items need to be prepared seperately and at the end they need to be placed in layers over a square or rectangular shaped baking pan.
Red Sauce

Take a kadhai and add oil. Put all ingredients and cook for 5-7 minutes. Keep aside.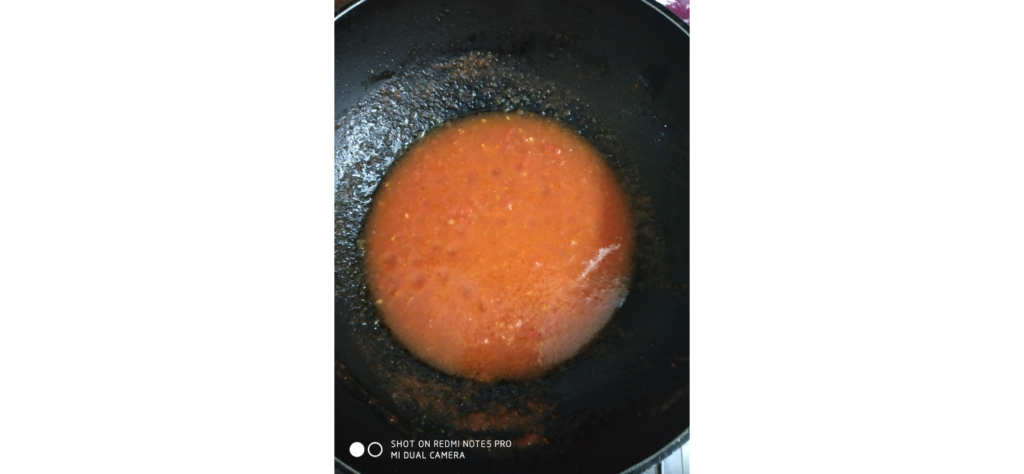 White Sauce

Take a kadhai add butter, flour and milk. Bring the mixture to boil. Keep stirring so that no lumps are formed.
Add cheese,salt,pepper and Italian seasoning. Keep aside.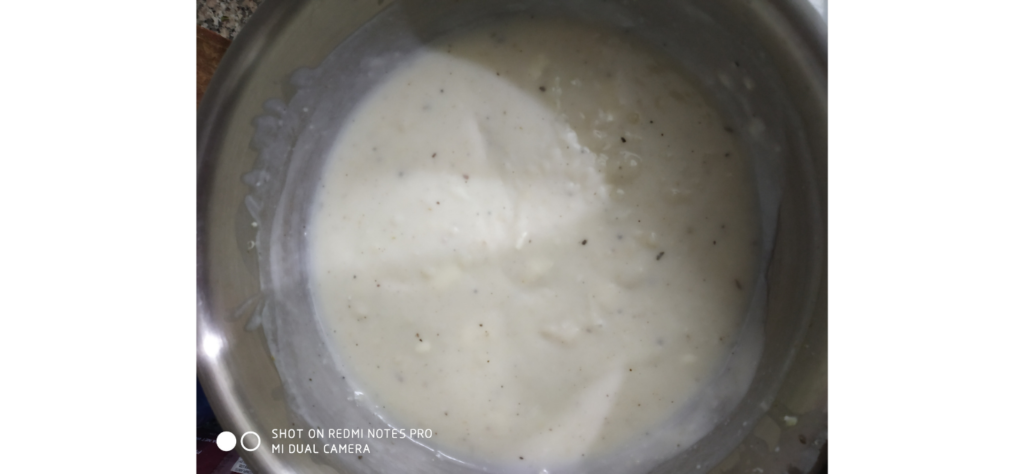 Vegetable Filling

Take a kadhai and add garlic and onion.Cook for few minutes. Add Soya badi grated,salt,chili flakes and boiled vegetables. Again cook for few minutes. The filling is ready.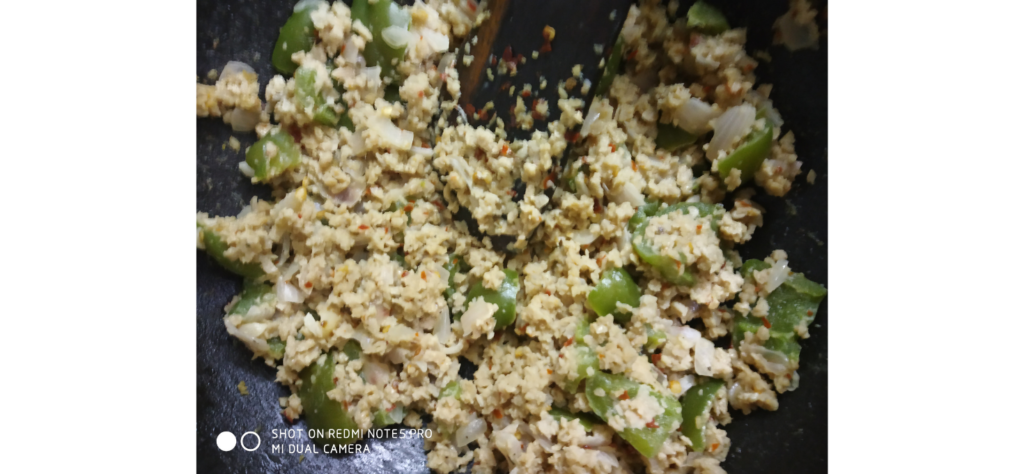 Pasta Sheets

Knead the flour in the form of dough. Roll it out into thin sheets and cut into square or rectangular sheets.
Put these sheets into boiling water for a minute for cooking and remove.
Keep them aside without stacking as they stick to each other.
Similarly don't keep them for long time after cooking as they stick to any given surface.
Lasagna Preparation

Take a baking tray square or rectangular.
Butter it at the bottom and sides.
Start stacking one by one in the form of complete layer on the tray .
Red Sauce,sheets,red sauce, vegetable Filling, white Sauce,cheese layer.
Again Sheets, Red Sauce, vegetable Filling, white Sauce,cheese.
Now cover the tray with Aluminium foil.
Preheat the oven to 180 degrees.
Bake for 20 minutes with foil.
Another 15 minutes without foil.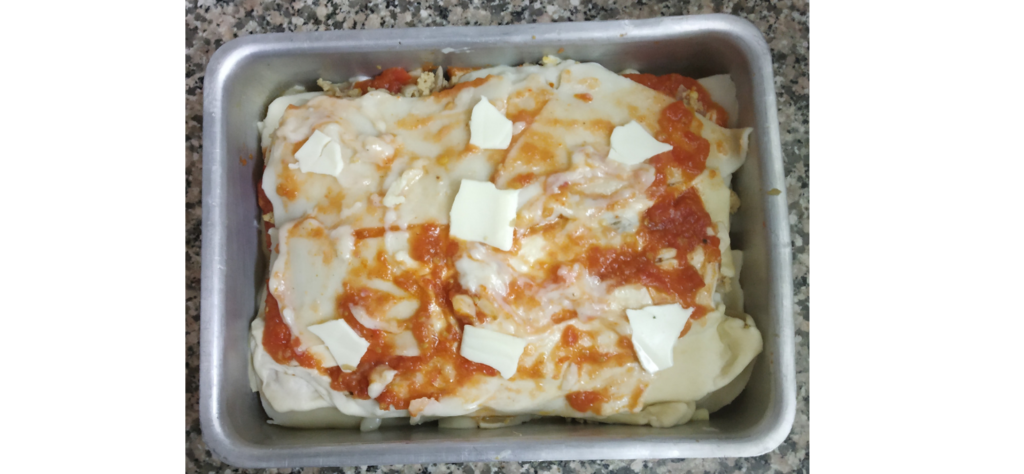 Served hot after taking small pieces out of tray in the form square feet rectangle.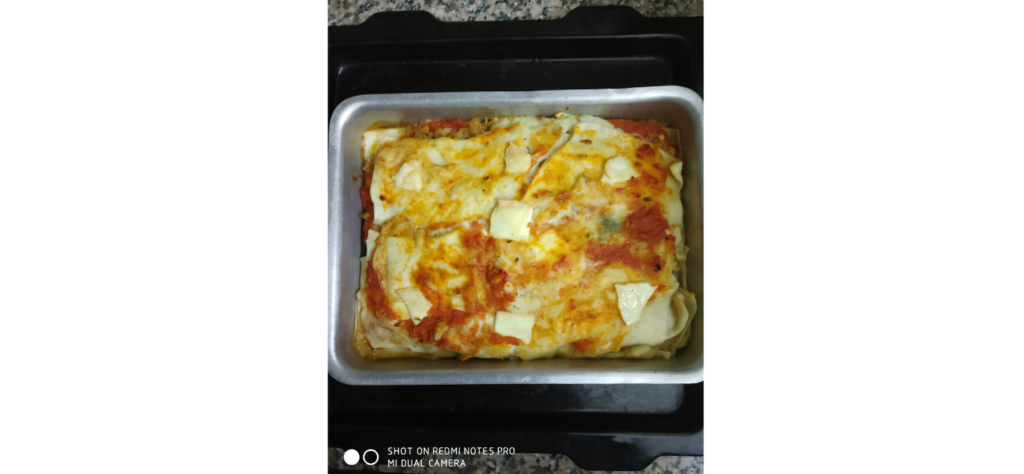 You can see the layers from the sides.

Enjoy.
Happy Baking!!