Recipe

Ingredients
Curd – 500 grams
Paneer – 100 grams (grated)
Onion – 1 piece
Green chilli – 1 piece
Ginger – 1 inch
Cumin powder – 1 teaspoon
Garam masala – 1 teaspoon
Green coriander – 1 teaspoon (chopped)
Black pepper powder – 1/2 teaspoon
Besan – 1 teaspoon
Salt -to taste
Maida(All purpose flour or breadcrumbs – 2 bowls (for coating over kababs )
Cheese – 10 grams(grated)
Black salt – 1/2 teaspoon
Oil – for shallow frying
Procedure
Take curd in a dry cotton cloth and pour the water out of it. This is called hunk curd.
Take a large bowl and put curd into it. To this add grated paneer, cheese and all ingredients above.
Adjust the salt content.
Mix all ingredients properly in the bowl. If watery add more besan or maida to make a semi soft mixture.
Take a spoonful of mixture in the palm (greased) and put it into any shape. Coat it nicely all around with maida or breadcrumbs.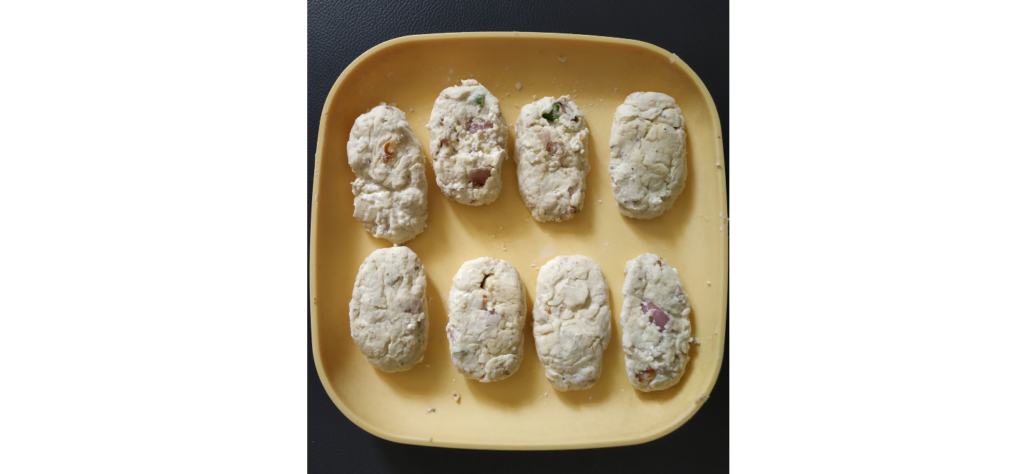 Keep it in the freezer for 20 minutes.
Shallow fry the kababs in a pan.
Serve hot with chutney or sauce.

Happy cooking!!