Ingredients
a)For Bati
Wheat flour – 100 grams (kneaded)
Sattu ( powdered sukha chana ) – 5 teaspoon
Mustard oil – 1teaspoon
Garlic – 1/2 teaspoon ( chopped )
Onion – 1 teaspoon ( chopped )
Red chili powder – 1/2 teaspoon
Dry mango powder – 1 to 2 teaspoon ( khatai pisi )
Lemon juice – 1 teaspoon
Ghee – 1/2 bowl
b)Chokha
Baigan – 2 piece big
Boiled & mashed potatoes – 3 to 4 pieces
Onion – 2 piece ( chopped )
Tomatoes – 2 piece ( chopped )
Green chilli – 1 piece ( chopped )
Garlic – 1 to 2 cloves ( chopped )
Ginger julien – 1 inch
Salt – to taste
Mustard oil -2 to 3 teaspoon
c)Green chatni
Green coriander – 2 bunches
Green chilli – 2 piece
Dry mango powder – 1teaspoon
Salt – to taste
Bati Chokha is an elaborate dish popular in Bihar and Uttar Pradesh. But the taste comes out really great.Its worth all the effort that is put in making it.
Bati recipe
BATI FILLING

MAKING BATI

COOKING BATI IN TAWA

Its the normal wheat flour dough we use for making rotis or Indian bread.You can add salt if you wish up to your taste.The Bati filling is made with sattu (powdered Sukha chana) .
Take a Kadhai or skillet add mustard oil(Bihari dishes utilize a lot of this) add garlic, onion and cook well.To the mixture add salt to taste, Lal mirch powder khatai pisi(dry mango powder) cook a little. Add lemon juice after switching off the flame.The taste of filling has to be tangy , spicy and strong so that it comes well along with the thick covering of bati.
Put this filing inside the small pockets of dough and seal them.Press them flat and cover with dry flour and cook them in open tawa or pan.Cook both sides well and also the round sides.
Take them out and put melted ghee on the top of bati. Break a little in middle to let the ghee seep in.Its ready now.

Chokha recipe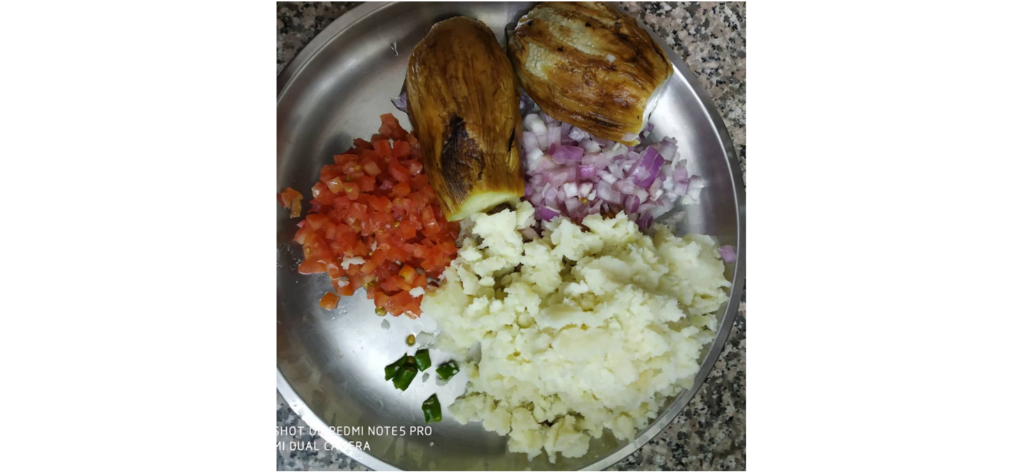 Burn baigan or eggplant in tawa or open gas flame.I have used tandoor stand.Peel the cover of baigan ,mash and put aside in
a plate.
Mix boiled and mashed potatoes , chopped onion and tomatoes, chopped green chili add a drop of mustard oil and salt to it.
You can either keep it this way or temper it in a kadhai with garlic and ginger grated . Chokha is done.
Green chutney recipe
Green chutney is the usual one made out of green coriander and green chili adjusted with a little amount of dry mango powder to make it tangy.
Happy cooking!!
Recipe credit for Bati Nisha Abhishek.